Located in historic Hubbard Hall in Cambridge, NY, and amidst the rolling hills of Washington County in upstate New York, Valley Artisans Market is one of the oldest arts cooperatives in the country. Local fine artists and craftsmen work in a variety of hand-crafted media including glass, paper, cloth, photography, oil paintings, pastels, wood, mosaic, sculpture, metal, jewelry, ceramics and more. The Small Gallery features rotating shows by members and guest artists, and the market is always staffed by one of its artisan members.
Small Gallery
Annual Member Holiday Show
November 25, 2016 - December 31, 2016
Our annual Member Holiday Show opens right after Thanksgiving with a festive French theme. This year, Hubbard Hall's Christmas Breakfast celebrates France, so Valley Artisans holiday decorations will also have a French theme. Our show kicks off with our annual Holiday Open House on Nov. 26 where we will be drawing the name of the winner of our contest: 35 percent off any one item to celebrate our 35 years in business. (Get in on the contest by Nov. 20 for your chance to be entered.) After Thanksgiving, we will be open seven days a week through New Year's Eve. As always, our market is staffed by the artisans who sell their work here. Introduce yourself, ask us questions and learn about our craft.
Our real Christmas tree — donated every year by Bailey Family Christmas Trees — will be in the front of the market and decorated with lovely handmade ornaments made by our artist members, from the ones you come to expect every year (like corn husk angels and hand-blown glass balls) to new surprises. Christmas cards, stocking stuffers and Hanukah gifts, as well as gift certificates, will help make yours a handmade holiday!
Featured Artist
If you have walked into Valley Artisans Market, you have probably been immediately attracted to the gourd houses made by artist Chung-Ah Park. A dried gourd is cut open, given windows and doors and made into a sweet room, decorated like a dollhouse with wallpaper, rugs, tables, beds, desks and the like. The rooms have beautiful details, some very sparse and some with a variety of her carefully handmade items. No matter their subject, each one is charming and innovative, and radiate the care and attention to detail that Chung-Ah gives all of her creations. "I love making things and love the whole process of designing, solving problems, and the actual hands-on part. When I am making these gourd houses, my thoughts are all about the process and nothing else. It relaxes and gives me energy at the same time."
Chung-Ah grew up in Korea where gourds were common. "I always thought they were magical," she says. "When I began to grow vegetables in my garden [in upstate New York], I learned that gourds could be grown around here by starting the seeds indoors to give the plants the necessary long growing period. Having many dried gourds around the house naturally made me think about making them into useful or beautiful objects." (She grew gourds for about 15 years, which supplied her needs, but sometimes when she is looking for a particular shape of gourd, she orders from an Amish farm in Pennsylvania.)
A true artist, Chung-Ah isn't happy unless she is creating. She has tried her hands in sewing, weaving, pastel drawing, print making, book making, card making, pottery, and gourd craft. "I took some time off from gourd craft while I was doing pottery, but I came back to gourds a couple of years ago." She would still like to try pottery again without using glazes, but right now she is having fun with the gourds. "I love the simplicity of the gourd and the fact I can grow them in my garden and it does not require chemicals in comparison to ceramics. I still would love to explore more of all these media I have tried so far though. I would like to create a piece of artwork which combines all the crafts I have done."
Because she works part-time as a gardener, Chung-Ah finds much of her design inspiration from nature. "Nature is always the most influential inspiration for me, but I also get inspired by art and crafts of other artisans and artists around the world."
Sometimes inspiration seems to happen spontaneously, but more often "I sit down and think about how I can design some particular type of pieces."
Chung-Ah has been having new inspiration lately for her gourd work. "I have been making decorative lights/lamps and am having fun with it. I am not sure whether they will sell or not, but I like making and having them around for myself," she says. The gourds use energy-efficient LED lightbulbs which run on lithium batteries. Two different lights are available: either a color-changing bulb without a timer or an amber-colored bulb with a four-hour timers. (The light will turn on and stay lit for four hours and then turn itself off; 24 hours later, it will turn itself back on.) Because the gourds have little skylights in them or intricate designs cut into them by using a tiny motorized saw, they cast beautiful shadows and designs on the walls around them.
We look forward to all the ways Chung-Ah will continue to express herself in her gourds and all of her other artwork.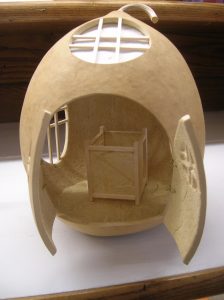 News
Valley Artisans Market will be staying open late (until 8 pm) on Friday, Dec. 2 and will have light refreshments available for shoppers, courtesy of the Chamber of Commerce, as part of the Christmas in Cambridge annual event. As an added incentive for shopping local,...
read more
Starting on Black Friday, Valley Artisans Market will be open seven days a week through New Year's. We hope to see you for our handmade, one-of-a-kind, artisan-made items - or just come in and browse and get some artistic inspiration. Need something specific that you...
read more