Located in historic Hubbard Hall in Cambridge, NY, and amidst the rolling hills of Washington County in upstate New York, Valley Artisans Market is one of the oldest arts cooperatives in the country. Local fine artists and craftsmen work in a variety of hand-crafted media including glass, paper, cloth, photography, oil paintings, pastels, wood, mosaic, sculpture, metal, jewelry, ceramics and more. The Small Gallery features rotating shows by members and guest artists, and the market is always staffed by one of its artisan members.
Small Gallery
Debra Ann Salat: Embroidery; Kris Greyson Moss: Fiber Artist
February 17, 2017 - March 14, 2017
From Our Hands
Valley Artisans Market features works by fiber artists Kris Gregson Moss and DebraAnn Nielsen-Salat in a show called "From Our Hands," which runs from February 17 to March 16, 2017. 
The two fiber artists are both inspired by color, flow and texture, and have been showing for several decades.
Kris Gregson Moss is known for her dimensional art quilts, and works sculpturally (as in "Playtime" shown here) in quilting as well as in two dimensions. She has exhibited internationally and nationally, and has been juried into exhibits at the Adirondack Museum, the Aullwood Audubon Center and other prestigious galleries. Her studio is located on the second floor of The Shirt Factory Arts and Healing Center in Glens Falls, New York, where she offers workshops in her innovative techniques. For information about Kris' workshops, visit www.krisgregsonmoss.com.
DebraAnn Salat is a fiber artist well versed in many of the needle arts but is primarily known for her hand embroidery.  She is a member of Valley Artisans Market and shows her work in several stores throughout the Capital Region. Her hand embroidery has been shown in several juried shows including Fences Select and has also been included in several group shows from Troy to Saratoga Springs. For more about her, see her bio.
An artist's reception is set for Saturday, February 18, 3 to 5 p.m. It's free and open to the public.
Featured Artist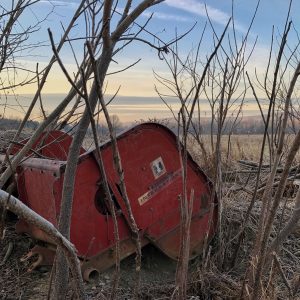 Photographer Ian Creitz has been playing with photography since he was in high school but his interest increased in 2004 when he was given his first digital camera.
"From there I continued to grow in my craft. Ever few years I upgrade my equipment and continue teaching myself and picking up tips from other seasoned photographers," he says.
       In recent years, his work has focused on the juxtaposition of nature and man, and the decay left behind by structures that have been vacated, like photos taken at 
Mary 
McClellan Hospital. He is
always inspired by finding a new location to shoot and challenging himself by studying other artists and then "seeing if I can create something similar but with my artistic twist," he says.
      But Ian's creative pursuits are not just in digital photography.
       "I am always interested in making things with my hands. But just the process of creating and learning a new skill fascinates me," he says.
       Though he only exhibits his digital photography at Valley Artisans, he has explored other media. "As a younger kid I always enjoyed art class. I also was taught how to throw pottery and created many pieces in the few years I took the classes," he says. Most recently, he has explored working with wood. 
"
I built a coffee table from a maple pallet wood. It had a finished top in tung oil with a rising sunbeam pattern. It was my most challenging piece to date," he says. It was this piece Ian was most sad to see go when it was sold to a person in another state.        
       When he is not being creative, you can find him helping his brother sell apparel (
www.tappedlife.com)
 at festivals around the Northeast.
       You can see more of Ian's work on his website
and on
Instagram
. For more about Ian, check out his
bio
.
News
Collage artist Sue Williams has made lots of new small journals with hand-sewn bindings and beaded tie closures. The red one shown has a canvas cover and drawing paper pages. The white one has a collage cover and art paper pages. There's a wonderful assortment in the...
read more
We are closed Mondays and Tuesdays until the spring but we will be open on Tuesday, February 14, 2017, 10 am-5 pm for all your last-minute Valentine's Day shopping. Grab a sweet card, a tantalizing piece of jewelry, a piece of art, something handmade, something...
read more