Located in historic Hubbard Hall in Cambridge, NY, and amidst the rolling hills of Washington County in upstate New York, Valley Artisans Market is one of the oldest arts cooperatives in the country. Local fine artists and craftsmen work in a variety of hand-crafted media including glass, paper, cloth, photography, oil paintings, pastels, wood, mosaic, sculpture, metal, jewelry, ceramics and more. The Small Gallery features rotating shows by members and guest artists, and the market is always staffed by one of its artisan members.
Small Gallery
Sandra Hildreth: "Plein Adirondack"
July 7, 2017 - August 1, 2017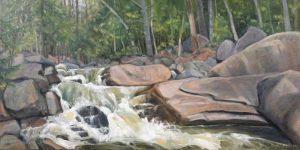 "Plein Adirondack" is a show of oil paintings by Saranac Lake artist Sandra Hildreth that will take you right out onto the trails, shorelines and mountaintops of the region. Hildreth not only paints the Adirondack landscape, she has come to intimately know the environment through years of hiking, paddling, and cross-country skiing.
The exhibit opens with a reception on Saturday, July 8, from 3 – 5 pm, and continues until Aug 1.
Like the Hudson River School painters who were attracted to the wild ruggedness of the region, Hildreth has found that is what has pulled her to paint the Adirondack Mountains as well. Plein air painting allows her to combine the two things she loves most: painting outdoors, on location, and exploring the wild places of the natural world. With a sturdy backpack for her palette, paints, easel and canvas, Hildreth hikes to find locations that inspire her to paint. She's also packed her gear into her solo canoe and ventured out to other scenic spots. And on calm, sunny winter days that aren't too frigid, she has even skied with her paints.
However, while the Adirondack Park consists of 6 million acres of woods and waters, Hildreth has also found it very rewarding to have a few special places she returns to paint, often many times per year, in all the different seasons and weather conditions. "Fully understanding a specific place, by exploring it on foot as well as with a paint brush, really gives you a personal connection to the spirit of that place," she says.
Hildreth's home studio/gallery in Saranac Lake is open by appointment and she regularly has work on display in the Adirondack Artists Guild Gallery. More information about the artist can be found at SandraHildreth.com.
Image shown: Barnum Brook, May, oil on linen, 12x48", plein air
Peggy Pulling's introduction to stained glass began in the 1970s. "I was introduced to stained glass when a friend opened a wholesale business in the late 70s," she says. "She asked me to come to work for her and that was that. Love at first sight." Peggy's stained glass starts with a design idea.
"Nature mostly is what inspires me. It could be from photographs, the real thing, greeting cards, magazines, you name it," she says. "Animals and flowers tend to be what I do. I have done abstract work and the blend of colors is what inspires me there." Many of Peggy's customers love the glass she choose, "which really is beautiful on its own."
She uses large sheets of glass and cuts the pieces to match the design. "They fit together like a jigsaw puzzle," she says. She cuts out the design, choosing areas of the glass that best fit what she is working on: a swirl of color, for instance, for an interesting accent. Next, each piece of glass is ground on a motorized grinder that smooths the edges. Once smooth, the edges of the glass pieces are covered with copper foil. (Copper foil is a metal strip of tape, sticky on one side, that sticks to the glass so the design can be soldered together. "Solder will only adhere to metal [the copper foil] and solder is what holds it all together," she says.) The artwork is not only in the design and seeking out the right piece of glass for each design but also in the skill of soldering. It is tricky to make a nice, smooth line of solder and only comes with patience and practice. Glass is an unforgiving medium and the bumps and bubbles of stained glass can be quite fussy to cut.
Peggy has had a few favorite pieces over the years that have included a giraffe, which was purchased by a customer who moved to Australia, and other one-of-a-kind pieces like a mountain lion and a black bear. They were quite complicated, which is why she only made one! Her biggest artistic mishap was when she was making a pair of sidelights. "The first one was fine," she says. "When I laid the glass on the pattern for the second one the pattern had shifted slightly. I ended up with a curved window that would not fit in the opening. I had to take it apart and rebuild. Yikes!"
Peggy is our newest member, and we are so thrilled to welcome her and her work to the market!
Member Peggy Gray makes designer jackets as well as clothing using scraps of interesting fabrics collected from many different sources and from travels. She has just re-stocked the Market with new work, including lovely blouses that are pieces of art while also being...
read more
Member Luann Gilligan of Round Lake, NY, has brought in some lovely little fabric purses with interesting buttons to brighten up the market. Check them out - they'll be gone in a...
read more