Vam is getting a Face Lift
Every year, Valley Artisans Market closes down for part of January to clean, paint, scrub and polish so that we can start the year off on a new foot. This year, we will be closed for a bit longer, from Jan. 1 through Jan. 23, for a little extra attention. We will be upgrading some of the lighting so you can see all the beautiful artwork better. We will also be repairing the ceiling from years of small leaks here and there that have left stains, and made the place look at little tired. The Small Gallery will be getting new drywall on the ceiling and an entire paint job. If you happen to peak in windows, you will see all of the art will be gone. Not to worry – we aren't closing! To protect all our art from drywall dust, we will be removing our work to our various studios and homes, and preparing new work to bring into the Market for the new year. We are excited to reveal the new and improved VAM, all sparkling and clean, at the end of January.
Until then, we wish you all a Happy New Year and look forward to seeing you in 2019.
Located in historic Hubbard Hall in Cambridge, NY, and amidst the rolling hills of Washington County in upstate New York, Valley Artisans Market is one of the oldest arts cooperatives in the country. Local fine artists and craftsmen work in a variety of hand-crafted media including glass, paper, cloth, photography, oil paintings, pastels, wood, mosaic, sculpture, metal, jewelry, ceramics and more. The Small Gallery features rotating shows by members and guest artists, and the market is always staffed by one of its artisan members.
Small Gallery
Joy Muller McCoola and Robin Blakney Carlson: Meditations in Wool an exhibition of Hand Felted Art
January 24, 2019 - February 17, 2019
Artist Reception will be held Saturday, January 26 from 3:00 – 5:00 PM. The public is welcome
Blakney-Carlson and Muller-McCoola work in the medium of wool using the ancient  process of wet felting.  There is balance between conscious thought and intuitive decision making. Laying out wool and other natural fibers becomes an active meditation. Rolling and rubbing the wool as the fibers interlock beneath their fingers connects them to the rhythms of the earth. 
Blakney-Carlson works on a flat plane with elements of relief and finds inspiration in the natural and built environment. Muller-McCoola works around a resist to pull the wool into three dimensional forms with imagery based on yoga prompts and quiet meditation. Both find peace and contemplation in their practice.
 Joy Muller-McCoola:
Stones are in my pockets, in my house, and stacked in my yard.  Some are smooth enough to rub and roll like a touchstone. They were
our first seats as humans. My felted meditation stones  can be stacked like a cairn in a corner, by a window or fireplace, as a ready seat. I use them in my yoga practice instead of a block. One day a yoga instructor said, "Open your hands like a lotus." I saw the flower where my hands had been. This led to one of my meditating figures. Other prompts lead to clear imagery of other figures that I wish to create in wool. The act of creating with wool and viewing these pieces are both meditative.
Robin Blakney-Carlson:
I rely on simple tools and materials: my hands, soap, water and fibers.  Using a traditional wet felting technique, I manipulate multiple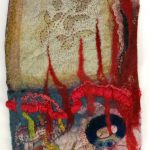 layers of wool, silk and textile fragments to create the foundation of my work.
My process begins by gathering up materials that excite me.  My inspiration is often a visual memory which I abstract into a design that evolves as I layer, blend and juxtapose colors and form.  It is a very tactile, meditative process.  I don't like to plan my compositions.  The flexibility of the medium invites experimentation; it suits my inquisitive nature.  After I felt a piece, I often add layers of stitching and embellishment until the aesthetic and technical elements feel in harmony.
One of Valley Artisans Market's founding members, Carlton Foster, passed away on Christmas Day, 2018. Though he hadn't been a member for many years, we remember his humor and the wonderful craftmanship he brought to the market, selling his beautiful wooden utensils.
Carleton A. Foster, 83, of Jackson, passed away on Christmas Day, December 25, 2018 at the Center for Nursing and Rehabilitation at Hoosick Falls. Carleton was born a Shushan farm boy on September 20, 1935 and was the son of the late Anderson and Clara (Vaughn) Foster.  He attended a two-room schoolhouse in Shushan and graduated from Salem Washington Academy. He had worked at Nash Rambler & Studebaker and also at Reynolds Tool & Die before starting his own business, "Puzzleworks" making children's wooden puzzles. The business became C.A. Foster design & creator of fine cherry wood kitchen utensils and cherry wood sculptures.
Carleton was a charter member of the Valley Artisan's Market, where his cherry wood creations were displayed and sold. He also was noted for the beautiful baritone voice and trained at the Troy Conservatory of Music. He was past President of the Washington County Historical Society and the Battenkill Snow Drifters. He was Past Master of the Cambridge Valley Lodge #481 F&AM Masonic Lodge; he was Lecturer of the Cambridge Valley #147 Order of the Eastern Star. Carleton also supported the Covered Bridge Association, the Cambridge Historical Society & Museum, the Historic Salem Courthouse.
He enjoyed Formula 1 racing and working at Lime Rock Park in Connecticut and also at Watkins Glen. Carleton did hill climb racing and was a Marshal for road races. He was noted at the Saratoga Auto Museum as a driver. He had a variety of interests which include painting and sketching and watching University of Connecticut Women's Basketball. He started the annual tradition of the Shushan Bonfire.
In addition to his parents, he wa
s predeceased by his first wife, Joan Tully Foster. Carleton is survived by his wife, Carol Brownell; his children, Lydia (Christopher) Owen of Columbia, SC and Hillary (Rev. Jarrett) Allebach of Worcester, MA; a brother, George Foster of Shushan; mother-in-law, Leta Tully of Cambridge; grandchildren, Vaughn, Aquilla, Blaize, Porsha, Ty, Wesley, Briana and Isaac. He is also survived by many nieces and nephews.
Donations may be made to:
Center for Nursing and Rehabilitation at Hoosick Falls Attn: Resident Fund
21 Danforth Street, Hoosick Falls NY 12090
The Michael J. Fox Foundation for Parkinson's Research
Grand Central Station, P.O. Box 4777, New York NY 10163-4777
We are open seven days a week until New Year's Eve. Come and see all that local artists have created with their hearts and hands. Hope to see you...
read more
VAM member Carolyn Kibbe has a new website: http://ckibbe.com. Her homepage features a picture of the month so you can check out her new work even when VAM isn't open!
read more