Located in historic Hubbard Hall in Cambridge, NY, and amidst the rolling hills of Washington County in upstate New York, Valley Artisans Market is one of the oldest arts cooperatives in the country. Local fine artists and craftsmen work in a variety of hand-crafted media including glass, paper, cloth, photography, oil paintings, pastels, wood, mosaic, sculpture, metal, jewelry, ceramics and more. The Small Gallery features rotating shows by members and guest artists, and the market is always staffed by one of its artisan members.
Small Gallery
Jim Schreiner: "Adirondack furniture" & Paul and Teresa Breuer: "Handmade lamps and botanical lampshades"
May 12, 2017 - June 6, 2017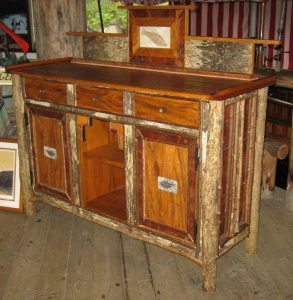 Opening reception:Saturday, May 13, 3-5 pm. Public welcome; refreshments will be served. 
Jim Schreiber: Adirondack Furniture
Jim Schreiber, of Great Sacandaga Designs, will be displaying his rustic furniture in the Small Gallery. Each piece is custom designed and hand-crafted using sustainably harvested local forest materials whenever possible. He incorporates various figured woods, bark, twig, and log species, along with wood carving into his pieces. Each and every project is a unique interpretation of time-tested traditional furniture designs. Because his furniture is built from the ground up – not by simply decorating existing pieces — his pieces are one-of-a-kind heirloom pieces. Jim specializes in large pieces of furniture, some being as tall as 10 feet, and as wide as 15 feet.
Jim, a former National Team Kayak Racer and development coach, has been a professional furniture maker since the early 1990s after his athletic career was cut short by Multiple Sclerosis. Heresides on the south shore of the Great Sacandaga Lake in the town of Day, here he and his  extended family have a Biathlon facility on 175 acres. (They train athletes from beginner to an Olympic level.)
Jim is also involved with the Adirondack Folk School, a school for the traditional arts in Lake Luzerne NY as well as HASTAGA, an organization helping people out of poverty in Indonesia. He is also part of The Saratoga Biathlon Club as a trainer, race official, and trail groomer.
Paul and Teresa Breuer: Handmade Botanical Lighting
Teresa and Paul, of Northeast Living Lights, strive to create functional art using a variety of natural elements to complement many decors. Taking cues from nature, they build their products with arts and craft style and a minimalist approach to allow the material to be the voice for each Living light. Teresa and Paul personally collect every leaf, twig and stone in their designs. They offer many standard designs but are able to customize those designs or develop a completely personalized fixture to satisfy most any lighting need or desire. They make every piece as though it were to become their own family heirloom.
In 2007, Paul and Teresa purchased the shade business that Teresa had been working at during the previous 10 years. They extended the current product line and have progressively increased their offerings. Together they have been creating, traveling, collaborating, sometimes arguing, all while living the dream. Seeing people's admiration for pieces they created together is always welcomed validation after placing so much of their time and energy into their projects.
"It is hard to explain that when you literally hear your audience say "wow, I love your work" you would do it all for free, if you could afford to, because it seems less like work when you enjoy the process of creation," they say.
Save
Featured Artist
Welcome to our newest member, Kris Gregson Moss
Kris Gregson Moss is not a quilter. She is an artist who sews pieces of fabric together in interesting shapes, this is true. But she often takes the process a step further by making them into cloth sculptures using wood and frames. It all started in her childhood. While her brothers were allowed to use hammers and nails, Kris had to wash the dishes, and, of course, sew. To make matters worse, she wasn't allowed to take art classes in high school since she was on a college entrance track. "It was the 1960s," she laughs.
But when she got to a point in her life when she could explore the kind of art she wanted to pursue, she fought back. "I wanted to make fabric stand up," she says. Since then, she has been making what she describes as "contrary" work, always trying new things, pushing her work beyond traditional art forms, uncomfortable following the rules.
"I pick up fabric all over. I love to use Dupioni silk. I won't use just cotton, as is used in traditional quilts," she says. "I am bored with rectangles so I use triangles. They have more movement. Maybe I refuse to be in a box." When making her work, she asks "What if?" and "Can I do this?" She feels her process of creating is like playing. And her husband gets to play, too. She takes advantage of his woodworking skills for help with frames and other structural elements for her work. Kris likes abstract work because when she began making her fabric sculptures, she didn't feel she was good enough to make representative work. Even though she has made work such as flowers and even a sea otter that hangs in her house, she still prefers the abstract.
Meanwhile, in her new home in Granville, she is creating smaller cloth objects and has been quite happy making sculptural necklaces, which have been selling well. Some of these mini sculptures look like a little lily, hanging in a trumpet shape. She calls them "Backwards at the Dinner Table" because she was wearing one and looked down to find it dangling in her coffee. (They are not washable.) She recommends flipping them around and wearing them down your back when you are eating dinner!
Many of Kris' works have appeared in juried shows and private collections, and she just won first placein in the 3-dimensional category of the Central Adirondack Art Show at the View Gallery in Old Forge, NY, for a piece pictured here called "Synchronicity"
It will be exciting to see what comes next for Kris, especially from the inspiration she draws from the view from her new house. "I can see the length of the Green Mountains and the hills and farms of Washington County," she says. True inspiration for an artist who doesn't fit into a box.
News
Congratulations to member Martha Starke who has been featured in the artist spotlight in the May/June issue of Simply Saratoga Home & Garden 2017. (Find her feature on pages 25 & 25, as well as on page 154.) All of Martha's work is garden-inspired. As a...
read more