Located in historic Hubbard Hall in Cambridge, NY, and amidst the rolling hills of Washington County in upstate New York, Valley Artisans Market is one of the oldest arts cooperatives in the country. Local fine artists and craftsmen work in a variety of hand-crafted media including glass, paper, cloth, photography, oil paintings, pastels, wood, mosaic, sculpture, metal, jewelry, ceramics and more. The Small Gallery features rotating shows by members and guest artists, and the market is always staffed by one of its artisan members.
Small Gallery
Victor Juhasz: Drawings, Watercolors and Oils ""No Politics, Please"- a selection of humorous illustrations and landscapes from a long career. "
February 21, 2019 - March 20, 2019
"No Politics, Please"- a selection of humorous illustrations and landscapes from a long career. 
An artist reception will be held on Sunday February 24th from 3:00 – 5:00 PM
Victor will present an Artist Gallery talk at 4:00
The public is welcome to attend.
  Award winning illustrator, VICTOR JUHASZ, (b. 1954) whose work is published regularly in Rolling Stone, The Nation, and The American Prospect, began illustrating in 1974 forThe New York Times while still a student at the Parsons School of Design ('75). He'senjoyed straddling the world of the serious and humorous throughout his career. Major magazines, newspapers, television,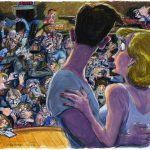 advertising agencies and book publishers (adult and children's), both national and international, have commissioned his caricatures and illustrations. He is also a reportorial illustrator whose visual documentation of soldiers and Marines in training and combat are part of the permanent collections of the USAF and the National Museum of the Marine Corps. In April 2017 he received the Col. John W. Thomason Award from the Marine Corps Heritage Foundation in recognition for his artwork documenting Marines in training and in the war zone.As a member of the Joe Bonham Project, created by former Marine combat artist Michael Fay, Victor drew the recovering wounded at Walter Reed Medical Center. In May, 2012 Victor and members of the Joe Bonham Project were subjects of a New York Times Sunday Arts and Leisure feature.
In 2013 he accompanied and documented the work of Foundation Rwanda in Rwanda which provides assistance to the women who were raped during the genocide and bore children as a result of the rapes. Victor has spoken at The Norman Rockwell Museum in Stockbridge, Massachusetts, and a parody of a Rockwell favorite, "The Runaway", done for The Village Voice is part of the Rockwell's permanent collection. Victor had a solo exhibition in 2016 at the Brinton Museum in Big Horn, Wyoming, which focused on his children's book work and military art.
Victor serves on the executive board of the Society of Illustrators, NY. He is the recipient of gold and silver medals from the Society as well as the prestigious Arthur William Brown and Hamilton King awards. A sampling of his extensive output can be viewed on his website, www.juhaszillustration.com. Victor also blogs about assignments and the process of creating images on the website,www.drawger.com/ victorjuhasz/. He and his wife, psychotherapist, transformation expert and public speaker, Terri Cole, have three grown sons and six grandchildren. He lives in Stephentown, New York.
One of Valley Artisans Market's founding members, Carlton Foster, passed away on Christmas Day, 2018. Though he hadn't been a member for many years, we remember his humor and the wonderful craftmanship he brought to the market, selling his beautiful wooden utensils.
Carleton A. Foster, 83, of Jackson, passed away on Christmas Day, December 25, 2018 at the Center for Nursing and Rehabilitation at Hoosick Falls. Carleton was born a Shushan farm boy on September 20, 1935 and was the son of the late Anderson and Clara (Vaughn) Foster.  He attended a two-room schoolhouse in Shushan and graduated from Salem Washington Academy. He had worked at Nash Rambler & Studebaker and also at Reynolds Tool & Die before starting his own business, "Puzzleworks" making children's wooden puzzles. The business became C.A. Foster design & creator of fine cherry wood kitchen utensils and cherry wood sculptures.
Carleton was a charter member of the Valley Artisan's Market, where his cherry wood creations were displayed and sold. He also was noted for the beautiful baritone voice and trained at the Troy Conservatory of Music. He was past President of the Washington County Historical Society and the Battenkill Snow Drifters. He was Past Master of the Cambridge Valley Lodge #481 F&AM Masonic Lodge; he was Lecturer of the Cambridge Valley #147 Order of the Eastern Star. Carleton also supported the Covered Bridge Association, the Cambridge Historical Society & Museum, the Historic Salem Courthouse.
He enjoyed Formula 1 racing and working at Lime Rock Park in Connecticut and also at Watkins Glen. Carleton did hill climb racing and was a Marshal for road races. He was noted at the Saratoga Auto Museum as a driver. He had a variety of interests which include painting and sketching and watching University of Connecticut Women's Basketball. He started the annual tradition of the Shushan Bonfire.
In addition to his parents, he wa
s predeceased by his first wife, Joan Tully Foster. Carleton is survived by his wife, Carol Brownell; his children, Lydia (Christopher) Owen of Columbia, SC and Hillary (Rev. Jarrett) Allebach of Worcester, MA; a brother, George Foster of Shushan; mother-in-law, Leta Tully of Cambridge; grandchildren, Vaughn, Aquilla, Blaize, Porsha, Ty, Wesley, Briana and Isaac. He is also survived by many nieces and nephews.
Donations may be made to:
Center for Nursing and Rehabilitation at Hoosick Falls Attn: Resident Fund
21 Danforth Street, Hoosick Falls NY 12090
The Michael J. Fox Foundation for Parkinson's Research
Grand Central Station, P.O. Box 4777, New York NY 10163-4777
FIRE AND ICE. That's the focus of our theme show this year, scheduled in August. Interested artists are invited to submit works portraying their interpretation of fire and ice in any media. Watch this page for more info on when to submit your work. We look forward to...
read more
After a long break to clean, paint, mop and dust - plus upgrade some lighting and repair some leaks from many hard Northeast winters - we are open Wednesday through Sunday, 10 am-5 pm. Come and see new work, meet new members and experience a fresher, brighter VAM!
read more