"Feeding the Body and Spirit" is a joint exhibition featuring paintings by Laura Shore of Farm Share Studio and ceramics by her brother Don Shore of L'Esperance Tile Works.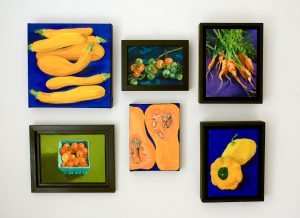 The paintings and ceramics focus on farms, food, and gardens. The exhibit runs August 4 – 29 in the Small Gallery at Valley Artisans Market. Opening reception: August 5, 3-5 pm.
Laura Shore
"Farm Share Studio is a project developed to connect my love of art with my love of food and the agricultural landscape," says Laura. "I choose as my subjects the fresh fruits and vegetables that arrive every week from my farm share CSA. Recognizing the link between this abundance and the struggling small family farms that dot the landscape near my home in Altamont, New York, I'm always looking for ways to promote local farms and local foods through painting, photography, writing and advocacy. My still life paintings are inspired by the jewel-like colors of Renaissance portraits and are complemented by recent landscape paintings that are looser and more naturalistic. Each year I donate 10% of Farm Share Studio proceeds to organizations that support family farms and work to protect agricultural land from development." Learn more at www.farmsharestudio.com.
Don Shore
Located in Rock City Falls, near Saratoga Springs, L'Esperance Tile Works is a studio and workshop dedicated to the art and preservation of handmade ceramic tile. "My late wife, Linda Ellett, and I founded the Tile Works in 1979," says Don. "It's known nationwide for our artistry and expertise in the manufacture and restoration of Victorian and Craftsman-era tiles. We have produced both original and reproduction designs for an impressive range of projects. These include high-profile restoration jobs, as well as original tiles for installation by leading architects and individual homeowners. Since Linda's passing in 2016, I have focused L'Esperance Tile Works on fireplace surrounds and art tiles using our vast library of existing moulds along with new collaborations." Learn more at www.lesperancetileworks.com