Artist Reception will be held Saturday, January 26 from 3:00 – 5:00 PM. The public is welcome
Blakney-Carlson and Muller-McCoola work in the medium of wool using the ancient  process of wet felting.  There is balance between conscious thought and intuitive decision making. Laying out wool and other natural fibers becomes an active meditation. Rolling and rubbing the wool as the fibers interlock beneath their fingers connects them to the rhythms of the earth. 
Blakney-Carlson works on a flat plane with elements of relief and finds inspiration in the natural and built environment. Muller-McCoola works around a resist to pull the wool into three dimensional forms with imagery based on yoga prompts and quiet meditation. Both find peace and contemplation in their practice.
 Joy Muller-McCoola:
Stones are in my pockets, in my house, and stacked in my yard.  Some are smooth enough to rub and roll like a touchstone. They were
our first seats as humans. My felted meditation stones  can be stacked like a cairn in a corner, by a window or fireplace, as a ready seat. I use them in my yoga practice instead of a block. One day a yoga instructor said, "Open your hands like a lotus." I saw the flower where my hands had been. This led to one of my meditating figures. Other prompts lead to clear imagery of other figures that I wish to create in wool. The act of creating with wool and viewing these pieces are both meditative.
Robin Blakney-Carlson:
I rely on simple tools and materials: my hands, soap, water and fibers.  Using a traditional wet felting technique, I manipulate multiple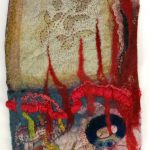 layers of wool, silk and textile fragments to create the foundation of my work.
My process begins by gathering up materials that excite me.  My inspiration is often a visual memory which I abstract into a design that evolves as I layer, blend and juxtapose colors and form.  It is a very tactile, meditative process.  I don't like to plan my compositions.  The flexibility of the medium invites experimentation; it suits my inquisitive nature.  After I felt a piece, I often add layers of stitching and embellishment until the aesthetic and technical elements feel in harmony.