"No Politics, Please"- a selection of humorous illustrations and landscapes from a long career. 
An artist reception will be held on Sunday February 24th from 3:00 – 5:00 PM
Victor will present an Artist Gallery talk at 4:00
The public is welcome to attend.
  Award winning illustrator, VICTOR JUHASZ, (b. 1954) whose work is published regularly in Rolling Stone, The Nation, and The American Prospect, began illustrating in 1974 forThe New York Times while still a student at the Parsons School of Design ('75). He'senjoyed straddling the world of the serious and humorous throughout his career. Major magazines, newspapers, television,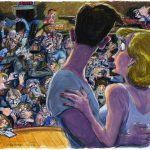 advertising agencies and book publishers (adult and children's), both national and international, have commissioned his caricatures and illustrations. He is also a reportorial illustrator whose visual documentation of soldiers and Marines in training and combat are part of the permanent collections of the USAF and the National Museum of the Marine Corps. In April 2017 he received the Col. John W. Thomason Award from the Marine Corps Heritage Foundation in recognition for his artwork documenting Marines in training and in the war zone.As a member of the Joe Bonham Project, created by former Marine combat artist Michael Fay, Victor drew the recovering wounded at Walter Reed Medical Center. In May, 2012 Victor and members of the Joe Bonham Project were subjects of a New York Times Sunday Arts and Leisure feature.
In 2013 he accompanied and documented the work of Foundation Rwanda in Rwanda which provides assistance to the women who were raped during the genocide and bore children as a result of the rapes. Victor has spoken at The Norman Rockwell Museum in Stockbridge, Massachusetts, and a parody of a Rockwell favorite, "The Runaway", done for The Village Voice is part of the Rockwell's permanent collection. Victor had a solo exhibition in 2016 at the Brinton Museum in Big Horn, Wyoming, which focused on his children's book work and military art.
Victor serves on the executive board of the Society of Illustrators, NY. He is the recipient of gold and silver medals from the Society as well as the prestigious Arthur William Brown and Hamilton King awards. A sampling of his extensive output can be viewed on his website, www.juhaszillustration.com. Victor also blogs about assignments and the process of creating images on the website,www.drawger.com/ victorjuhasz/. He and his wife, psychotherapist, transformation expert and public speaker, Terri Cole, have three grown sons and six grandchildren. He lives in Stephentown, New York.