Carol Law Conklin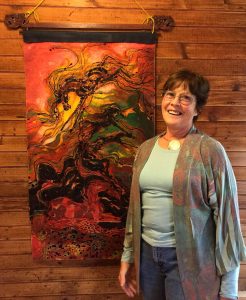 I was born in Bridgeport CT and grew up in rural New England. I graduated from Massachusetts College of Art in Boston and went on to study printmaking at the Museum School of Fine Arts. I also spent one summer studying at The Europa School, Viale Adriatico, in Rome, Italy.
It was in Western Massachusetts in the Berkshire hills that I discovered batik, an ancient method of painting on fabric with wax and dyes. There I also met my husband and we purchased a farm in Washington County, Amity Farm. Nature and the seasons, cycles, mythological and primordial themes, were and still are my inspiration. I have been a batik artist now for 40 years and still find it magical when at the final stage, I iron the wax from the fabric.
The word batik is an Indonesian word meaning "wax writing." Batik requires an artist to create by working with the negative space. The wax is applied where the dye is not wanted, and the color and form is built in many stages of waxing and then dyeing the cloth. Usually the lightest colors are dyed first and the color intensity increases with subsequent dye baths, the darkest colors at the end of the process. The dyes are translucent, so each color is affected by the previous colors. Many of my batik go through discharge dyeing where some of the color is removed to make way for a contrasting color. Many more color combinations become possible after this bleaching out process.
After the batik has gone through all of the stages wanted, it is time to remove the wax. I iron out the excess wax between plain newsprint and paper towels. The paper absorbs the wax and will need to be changed many times until all the wax has been released from the cloth.
Visit www.amityfarmbatik.com to see the tutorial section on how I create my batik.