Luann Gilligan
Categories: Cloth
Member Since: 2016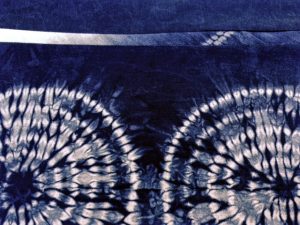 I am a textile nut! Color, pattern, texture, the more hand-made the better. Striking Amish color-blocked quilts, contemporary art quilts, batiks from Indonesia, laces found in old barns, embroidered tablecloths–you name, I love it! And I've collected a lot, mostly in the category of "bits and pieces".
One day I was searching the internet for ways to use my eclectic collection of bits and pieces in a way that would bring them into the 21st century. In my search, I was sent completely off track and into a whole new world–the traditional Japanese dyeing techniques that fall under the umbrella of Shibori.
With little opportunity to travel to Japan to seek out more "bits and pieces" for my collection, I decided to try my hand at dyeing my own fabric. And since so much of the traditional fabrics I was seeing on the internet were naturally dyed with the indigo plant, that became my dye of choice.
Twisting, tying, clamping, stitching–so many experiments to try! Now, yards and yards of fabric and many vats of indigo later, I have a new collection of "bits and pieces" of my own creation.
What to do with them? Always inspired by the functionality of traditional quilts and the quirky imagination of art quilts, I used my experiments to create decorative, yet functional,textiles in a modern way. My work is inspired by centuries of artisans who created beautiful pieces of cloth, out of necessity, which have become treasured heirlooms.
I hope that I can use this inspiration to bring a new "twist" to traditionally-inspired textiles for today's home.