Jack Metzgar
Jack Metzger has sold antiques and historical artifacts for much of his life. Every book I write is written on one of the beautiful old farmhouse tables he brought and sold to me. His wonderful objects fill the farmhouse, and brighten the lives of many people. He is also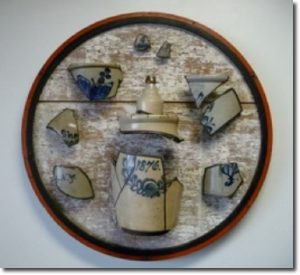 an artist, and like so many artists and creative people it has not always been easy for him to show his work to the world or believe people will want to see and buy it. He has also wrestled with some fear and confusion, maybe a panic attack or two,  but in the past few years, he has listened to the call of the creative spark and come out. Last night Maria and I went to an art show in Saratoga that featured much of Jack's work – his use of found objects – Jack calls them "bits and pieces of history."
Many of the things he saved over the years  – shovels, posts, water jugs, pipes – had been lost or discarded, and these objects have become his art, beautiful sculptures in their own right and especially timely today. "Life never turns out like you think it will," says Jack of his work. "Sometimes we feel broken worthless, and without value, and something comes along to help us remember that life has not diminished us, it has made us better, and although different than the original plan, deeper." Beautifully put. Jack runs a shop call "Jack's Outback" in Cambridge, N.Y., and he displays much of his work there.
Mary Muncil
All of my paintings are original (painted with professional grade acrylic paints) and I hand-paint the lettering as well, using fonts that I feel fit with the theme of the painting.The wood that I use for each painting is unique and often very old, coming from farms in our area
(upstate NY and Vermont). If you are interested in buying any of these paintings, please email me at mmuncil@verizon.net and I will send you more detailed photographs. If one particularly speaks to you, we can talk about this as I may be able to paint a similar piece for you.
whitefeatherfarm.wordpress.com/my-artwork